Erasmus Enterprise launches The Impact Starting Guide on April 3, 2023 with Erasmus Research Services with the aim to provide academics with tools, bringing their ideas into actionable plans that drive societal impact. The first copy of the guide was presented to Ed Brinksma, President of the Executive Board at Erasmus University Rotterdam, marking the beginning of its distribution.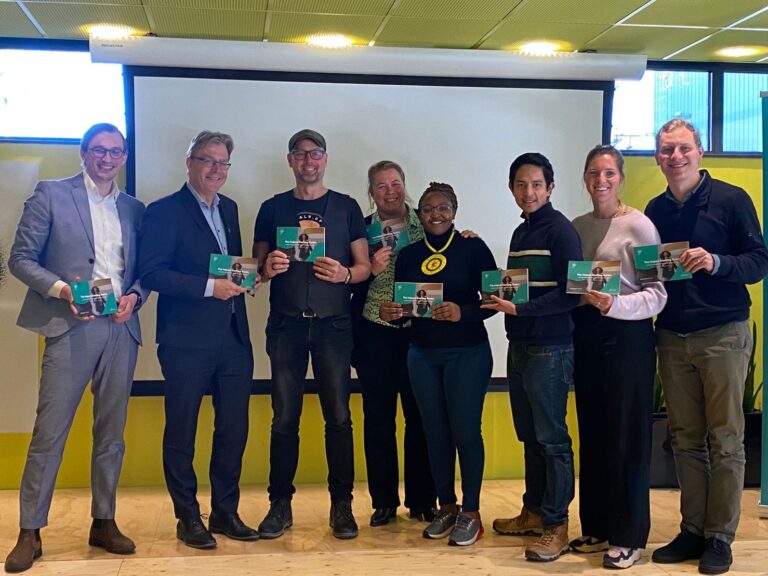 "The Impact Starting Guide is an invitation for academics to accelerate their impact by reaching out to researchers or enterprises with ambitions and ideas…. We aim to make everyone feel safe in taking this fun and exciting journey to accelerate their efforts" – Bas van der Noll  
Erasmus Enterprise is committed to fostering an entrepreneurial mindset among academics and providing the necessary resources to them for success. Establishing impact is a combination of research and people who are proactive. With the right resources and tools academics can develop innovative solutions and create a lasting social impact.   
The Impact Starting Guide – What is in it for you? 
First, The Erasmus Impact Guide can provide you with practical advice to overcome common challenges and inspire you to head start your journey to make change. Secondly, it can determine your current position in your journey and guide your vision. Lastly, identify the needed support and provide you with the rightful information. 
The guide is set up to direct academics to navigate through various stages of research and development, enabling them to achieve maximum impact in their respective fields. It helps researchers identify potential problems within their ideas and validate them, providing them direction on solution development. Team and partner building are another aspect, distinguishing potential partnerships and defining the right composition. Additionally, it provides objective on initiating fundraising and funding activities.  
Taking initiative is crucial to achieving positive societal impact beyond research, as continuous initiative and dedication is essential to accomplishing it. The Impact Starting Guide will guide you to realise your potential as an entrepreneur and begin your journey. Empower yourself to create a better future by downloading The Impact Starting Guide and take the next steps towards impactful entrepreneurship and co-creation.