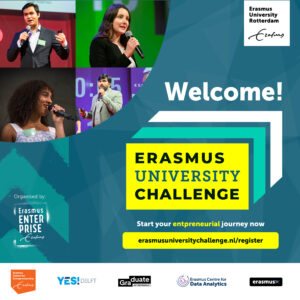 Now open for registration until 9 May! Secure your spot here.
The Erasmus University Challenge is a platform that every Erasmus University student can benefit from. Bring your idea to the next level, get in touch with our network and develop personal skills.
Do you want to be standing with a big cheque, a business plan and a lot of new LinkedIn connections at the end of the challenge? Apply now for this challenging and worthwhile experience and let us help you on your path to success!
How can you participate? Choose a social or business challenge within the logistics or maritime sector. Think of energy transition, robust supply chains, prices of raw materials or another challenge. Create a solution from a business, societal or other perspective. You can change this later within your profile. Post your idea using the following registration form.
The website will be online in a few weeks.
For more information please send an e-mail to: luc@erasmusuniversitychallenge.nl.
Schedule:
10 May – Kick-off Event & How to Fail with ErasmusX
24 May – Idea Validation with Erasmus Center for Entrepreneurship
7 June – Workshop with Yes!Delft
14 June – Erasmus University College Speeddate with Erasmus Enterprise
1 Sept – How to Pitch & How to Get Funded with Graduate
7 Sept – Re-charge with Earth Ahoy
15 Sept – Grand Finale
Oct – Entry for Stage two Europe & After Trajectory