Erasmus Enterprise has recently welcomed
Iris Casteren van Cattenburch and Sonja Wendel, incorporating into our community The Human Stuff, their narrative-based research consultancy for creating cultures of care. Their journey demonstrates that it is possible to combine academia with entrepreneurship and turn research into positive societal impact. In an interview, Iris shared the exhilarating journey of building their business, along with the challenges they had to overcome.
The Human Stuff helps organisations focus on the human element, thus improving the health of people and of the organisation. "Our premise is that every human being needs to be seen and heard to feel a sense of belonging. In this way they commit themselves to the vision, mission, and goals of the organisation," shared Iris. By using an age-old learning tool that is accessible to everyone, our human ability to tell stories, they encourage customers and employees to cultivate a constructive and mutually beneficial human culture.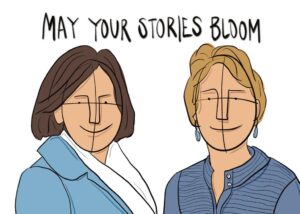 Asked about how this journey to enter entrepreneurship as an academic was, Iris answered that for her it was not as challenging as for Sonja. "I have been self-employed as a communications strategist since 1999, so entrepreneurship is my starting point. I also combined my PhD research with my professional career," told Iris. She developed her dissertation into a method to apply Shakespeare to organisational and sustainability challenges and became an associate researcher at GovernEUR, one of the impact centers of Erasmus Research & Business Support (ERBS) at the Erasmus University to add the narrative-based approach to their qualitative research projects in public administration. The director of ERBS, Laurien Poleij, connected her with Sonja. 
Sonja is an assistant professor and teacher at the Erasmus University Rotterdam (School of Economics) and senior researcher at the Leyden Academy on Vitality and Ageing. One of her main research objectives is to prioritise health and well-being, drawing on human experiences captured in stories. She passionately believes that connecting inter-disciplinary theories and practices can stimulate out-of-the-box thinking and enhance academic research to create impact. Sonja and Iris shared passion for stories and the impact they can have, by using them as interventions for improving organisational cultures, made them take the leap and embark on a business adventure together. 
Their biggest challenge was to develop the steps of their business process into something clear and understandable for their potential clients. Nevertheless, the support of ERBS, and from the business developers of Erasmus Enterprise (EE) and Erasmus Research Services (ERS) helped them overcome this hurdle. Their innovative research activities are developing into a promising business and have now become a separate BV under the umbrella of Erasmus Enterprise. Iris shared that being part of the Erasmus Enterprise community is inspiring for the entrepreneurial spirit everyone breathes. "No matter what age, position or background; it's a community of skilled intellectual doers who want to make a positive change in the world."  
The inspiring journey of these women serves as proof that although combining being an academic and entrepreneur can be a challenge, it is within reach with the appropriate support and perseverance. Their advice for fellow academics that want to do the same? "If you want to make a change, it's worth your venture!"