The YOUNITE event, a collaboration between Erasmus Enterprise and YES!Delft, held on Thursday, 8 June, brought together a vibrant community of innovators, entrepreneurs, and industry leaders in a celebration of collaboration and technology-driven impact. The event, hosted by the charismatic Julian Jagtenberg, Founder and CEO at SOMNOX, showcased inspiring stories, insightful discussions, and groundbreaking technologies that have the potential to create positive change in society.
Frans van Houten, a prominent figure in the industry and alumni of the Rotterdam School of Management, shared his incredible journey of making impact. His emphasis on the significance of new technology and entrepreneurship for the world resonated deeply, highlighting the transformative power it holds.
The engaging panel discussion titled 'Startup vs Corporate' shed light on the pros and cons of different paths to creating impact. Panelists Sara Okhuijsen, Omar Link, and Antoinette Van Kolthoorn provided valuable insights, showcasing their experiences and perspectives on navigating the startup and corporate landscape.
Karthik Mahadevan captivated the audience with the inspiring story of Envision, a startup from the YES!Delft eco-system empowers people who are blind or have low vision to access everyday visual information for themselves. He demonstrated their groundbreaking technology, leaving the audience in awe of the possibilities that lie ahead.
Following the event, a remarkable Network Fair took place, providing startups from various sectors with a platform to connect, share ideas, and showcase their innovations. The presence of start-ups such as Loop Biotech, Yes!Talents, OASYS NOW, Gyromotics, Noria Sustainable Innovators, SoundCell, HighTechXL, EY, Netherlands Enterprise Agency (RVO), Coding the Curbs, and AICON added immense value to the fair, fostering a spirit of collaboration and exchange.
Vice president of the Executive Board Ellen van Schoten, esteemed opener of the Network Fair, set the stage for an afternoon full of connections and possibilities. Her words ignited a sense of togetherness and community, emphasizing the importance of collective effort in driving innovation and impact.
"We are thrilled to see technology and business come together at YOUNITE," said Ellen van Schoten. "This event has showcased the transformative potential of collaboration and the power of innovation in creating a lasting impact on important issues such as sustainability."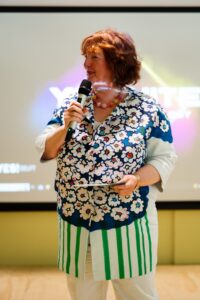 YOUNITE was made possible through the collaboration of incredible partners including HighTechXL, ASML, Netherlands Enterprise Agency (RVO), ErasmusX, and AICON. The event owes its success to the unwavering dedication and hard work of the entire team at Erasmus Enterprise and YES!Delft, who tirelessly ensured a seamless and extraordinary experience for all participants.
As the event came to a close, attendees were left inspired and motivated to harness the power of technology and create a lasting impact. The YOUNITE team invites everyone to stay tuned for an exciting workshop on the 28th of June, where further insights and tools will be provided to empower individuals on their journey to making a difference.
For upcoming events, visit: https://www.younite.me/upcoming-events